Elizabeth Barron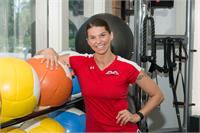 Hometown: Boyne City, Michigan
Education: Pinnacle Career Institute; Personal Trainer, Professional Trainer
Certifications: Beachbody Live Instructor, Turbo Kick Live Instructor, PiYo Live Instructor, AFAA, ACE, NASM, FIS, CPR/AED
Quote: Love yourself enough to live a healthy lifestyle!
Elizabeth Barron instructs the following:
Fundamental-Fit Training is an ideal starting point for beginners and for those who score a 1 or lower on any area of our movement screen. This is also a great place to start for those who clear the screen but have not trained in awhile. In this session, we cover all the basic movements that are essential building blocks for our program. There are 2-3 levels of progression for each movement, none of which exceeds what we would consider a beginner/intermediate level. The circuit is run as a 30/30 (30 seconds of work/30 seconds of rest), which gives us the ideal work–to-rest ratio with this target group and the level of the chosen exercises. We design a new Foundations Training program each month while keeping programs consistent so that the client can achieve the basic movement patterns, ultimately graduating to higher levels of exercise. Remember, we as coaches crave much more variety than our clients. Give yourself the chance to master the exercises!
*Gold Training Membership Required

"I love the Fundamental Fit classes because it gives me a chance to get a great workout while making sure my form is on point!" - Taylor J.




Small Group Personal Training is full body movements for the people who want to get fit with a personal trainer's touch! This is a great medium between a one on one session and large group training. With only four people in these classes it gives you the comfort of having a trainer to help you do exercises correctly but the feeling of group motivation!*Platinum Membership Required




PILATES + YOGA + NONSTOP MOVEMENT!

Now you have the power to define every single inch of your body. You'll want to experience this pulse-pounding, body-sculpting workout —LIVE! No weights. No jumps. Just hardcore results.






Sure, it's kickboxing, but it's so much more! You'll kick, punch and groove your way to a brand new body in this action-packed, super fun, super safe and effective cardiovascular workout.




Total Strength is the ideal Team Training option for those looking to build strength. While work intervals are timed (normally 30 seconds or less), emphasis is placed on quality and increasing strength more than on metabolic training. You should expect to be taxed and have a great workout, but not at the expense of a reduced load. Remember, this is strength training. While Total Strength offers a less intensive coaching experience than Small Group Personal Training, it does provide a complete product for those who are in the Gold Training Program.

"I love seeing the muscle progression throughout every Total Strength, it is one of my favorites!" - Jess W.




Meta-Burn is a 50-minute session among our most advanced metabolic Team Training options. In order to participate, clients must score higher than 2 on all of the movement patterns in our assessment. There are 1-2 levels of progression for each movement, both of which are considered intermediate/advanced. The Meta-Burn circuits change once a week. *Gold Training Membership Required





"Meta-burn is my favorite class at LAVA! Fast paced, keeps me entertained, never boring. I get my cardio fix and weights too! I love the intervals." - Natalie S.