Sammi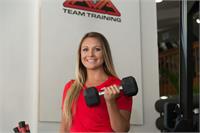 Director of Training
Hometown: Hilton Head Island
Education: Erskine College
Athletic Training
Health and Biology
Certifications: ATC, First Aid, CPR, AED-AHA
Sammi instructs the following:
Small Group Personal Training is full body movements for the people who want to get fit with a personal trainer's touch! This is a great medium between a one on one session and large group training. With only four people in these classes it gives you the comfort of having a trainer to help you do exercises correctly but the feeling of group motivation!*Platinum Membership Required




Foam rolling is a self-myofascial release (SMR) technique that is used by athletes and physical therapists to inhibit overactive muscles. ... Those new to foam rolling, or those who have particularly tight muscles or severe trigger points, often start with a softer foam roll.




Total Strength is a circuit style workout that is focused on form, strength, power, and quality reps. Heavier weights will be used in this workout since the object of the class is to gain strength. We do full body exercises to make sure you hit every muscle group in order to gain overall strength. We modify each movement based off of everyone's strength levels and we have a wide selection of dumbbells and kettlebells to fit everyone's training level! A timer is used in this class to tell you when to start and stop each exercise. This class is not necessarily geared towards spiking your heart rate for fat burning purposed, but more towards reaching that hypertrophy phase in your muscles. The number of reps does not matter, but the quality of reps does. The trainer will make sure you have perfect form while lifting a heavy, challenging weight. The workout is designed to be about 30 minutes along with a structured warm up and cool down with foam rolling making it about an hour long. There is always a surprise finisher at the end as well. Total Strength is perfect if you are wanting to challenge yourself and see what your body is capable of in just an hour of your time! If you are wanting to flex harder and make those muscles pop, then come join us for total strength!




Metaburn is a high intensity interval training (HIIT) style workout that is the perfect class if you are wanting to burn fat! The workout is designed around circuit style training that will keep your heart rate high and keep you burning calories throughout the whole day. We use a timer that will tell you when to start and stop each exercise. This class will not only help you lose fat, but also help tone and sculpt your body into the shape you've always dreamed of having! We modify each exercise based off of everyone's fitness level so no need to be scared! This is our highest intensity level class and definitely our most popular. The workout is designed to be around 30 minutes of blood, sweat and tears and of course, a finisher! We will take you through a structured warm up before the workout and then cool you down with the foam roller post workout making the class about an hour of your time. You are definitely guaranteed to feel the BURN in the Metaburn!




Fundamental Fit or as we like to call it "fun fit," is a mixture between the total strength and metaburn. It is a perfect mix of full body cardio and weights that gives you a great balance and variety of exercises during the class. This type of class will help you learn how to control your heart rate while keeping great form and focus throughout every movement. Every exercise can be modified by the personal trainer based on each individual's fitness level. You will be challenged no matter what fitness level you are at! The workout itself is about 30 minutes long with an optimal work to rest ratio. There is a structured warm up and cool down with foam rollers as well making the class about an hour long. This class is perfect if you are wanting a full body workout with a little bit of everything to give your body the challenge it needs!